Dempsey Essick is a self taught, self expressed realist watercolor artist. He is known as the Hummingbird Bird Artist; not only for the hummingbirds he paints but for the hidden hummingbirds he hides in his paintings.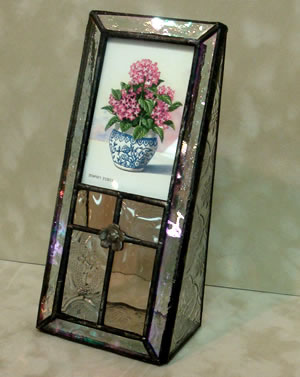 "Charleston Touch"
Unique to the four paintings Dempsey Essick did of the Two Meeting Street Inn in Charleston, S.C. is the beautiful blue willow pot which held a hydrangea plant. That arrangement is now the subject of a Pinkie Print entitled "The Charleston Touch".
Framed in an antique-style stained glass frame this is the most beautiful of our thumbnail prints.
Gift Boxed: $32.00
Copyright ©
• www.DempseyEssick.com •
All Rights Reserved.

Last Update: 2/7/2019