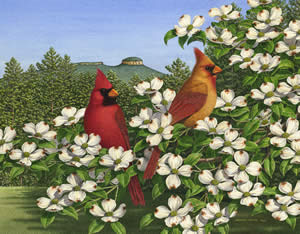 "Carolina Calling"
Dempsey Essick is not just a bird lover; he is a bird fanatic. In addition to his beautiful depictions of birds in many of his paintings he is a past president of the N.C. Bluebird Society and speaks publicly about the plight of the Eastern Bluebird. He started a bird watching club in his own community and has come to be known as the Hummingbird Artist Outside his studio window he keeps a table full of tasty treats (everything from crushed egg shells to softened raisins to cornbread) for the birds so that, when he is working on a painting he can be constantly entertained by every type of songbird native to the Piedmont Region of North Carolina. Just recently, he was visited by an itinerant peacock who had undoubtedly heard about the free smorgasbord at the feeding station in the Essick back yard. The peacock hung around for a few days then departed for parts unknown.
For "Carolina Calling," Dempsey has portrayed a pair of cardinals on the limb of a dogwood which is in full bloom. It is the nesting season and the cardinals, who mate for life, are looking for the ideal spot to raise their family. The cardinals and the dogwood are official symbols of North Carolina.
Pilot Mountain, in the background, is not an "official" symbol but it is one of the best known landmarks in the state. Centuries ago, the Sauratown Mountains in Surry County stood tall and imposing but, over the years the mountains have eroded away leaving the spectacular knob of quartzite that we now call "Pilot Mountain." The mountain served as a guidepost for the earliest natives and for the later settlers as they migrated south to settle Piedmont North Carolina.
Pilot Mountain is the perfect background for Dempsey's painting; it establishes the locale, adds interest to the overall picture and brings a touch of natural beauty into the life of every viewer.
Dempsey's Shares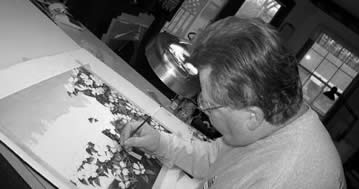 Cardinals have been good company to me. They stay year round and visit my feeding station daily. I take breaks from my painting to fill all the feeders with a variety of food. I am faithful to the birds and they are faithful to me.
As for the dogwoods, they are my favorite flowers. One joy of spring is watching the dogwood tree outside my studio window. Cardinals are abundant and their colors are striking against the contrast of the blooms.
I have always wanted to paint a pair of cardinals especially after I held and studied a juvenile cardinal that became trapped in our carport. We made several photos and the experienced only increased my love of birding.
I searched for a place to do my cardinal and dogwood painting but around home was not a good location. I sought out a dogwood tree in Surry County just south of Pilot Mountain for this view. I made my photographs just off of Caudel Road on an old tractor path, about 5 miles from the mountain.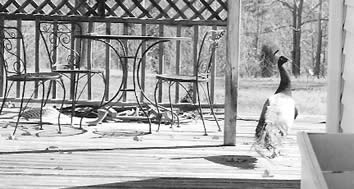 This is a simple yet very detailed painting that speaks of spring in North Carolina. Red, in watercolor, requires multiple layers to create the proper effect of the subject matter.
It is probably the most difficult color to work with and I had to take extra effort in painting the birds so their softness and feathery look was maintained.
I stood for most of this project (it made my back feel better) propped over my drawing board for long hours painting multiple layers in each petal of the dogwood. Each petal has no less than 3 layers of paint of it. Since every dogwood bloom is unique, the challenge for me was to make sure that each bloom I painted was different in shape and size.
A birding surprise during this painting event occurred in late March when I looked out the window at the feeding station and there stood a beautiful peacock, eating with all the other birds. I gasped, ran for my camera, and got a quick shot before it disappeared. Now I have added yet another bird to the list of those who have dined at my table.