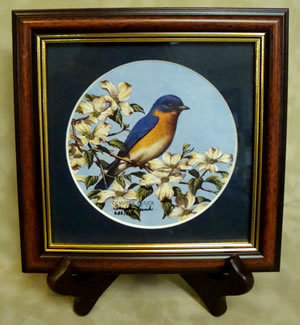 "Carolina Blue"
Blue is the color of fidelity. Blue ribbons are always the top award. Our good and reliable friends are always described as "True Blue." We live out our lives under the infinite dome of the blue heavens. Perhaps our affinity for the color blue explains the special place the Eastern Bluebird occupies in the minds of bird lovers.
A few years ago, when the Eastern Bluebird was listed an endangered, thousands of people put up bluebird houses on the edges of fields all over the country. People, who had never lifted a finger toward conserving anything, joined the ardent, conservationists in a determined effort to save the beautiful blue songbird. And save it they did. No longer endangered, bluebirds have their choice each year of more new houses and live worm feeding stations. And when a new family of bluebirds hatch out in the house that you put up, who can blame you if you brag a bit.
Dempsey Essick, a conservationist and bird lover, has painted a male Eastern Bluebird sitting on the limb of a wild dogwood tree. The newly opened blossoms tell us that it is early spring when the drift of white blossoms through the woods is the harbinger warm days and cool nights. The blue over tan coloration of the resting bird validates everyone who ever wore a blue blazer with tan slacks.
Gift Boxed w/Easel: $30.00