Dempsey Essick is a self taught, self expressed realist watercolor artist. He is known as the Hummingbird Bird Artist; not only for the hummingbirds he paints but for the hidden hummingbirds he hides in his paintings.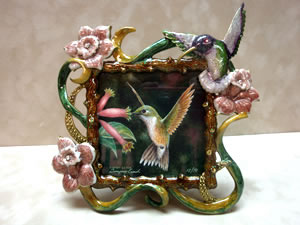 "Backyard Jewel"
Appropriately mounted in a bejeweled frame, Dempsey Essick's latest thumbnail painting is a rendering of a beautiful hummingbird that is sure to please the discerning collector.
Caught in the act of sipping fresh nectar from a lovely cigar plant, the little hummer will be gone in the blink of an eye only to be replaced by another. And, if you have sharp eyes you may detect the outline of a hidden hummer lurking within the shadows.
Gift Boxed: $37.00 Free Standing
Copyright ©
• www.DempseyEssick.com •
All Rights Reserved.

Last Update: 2/7/2019