Dempsey Essick is a self taught, self expressed realist watercolor artist. He is known as the Hummingbird Bird Artist; not only for the hummingbirds he paints but for the hidden hummingbirds he hides in his paintings.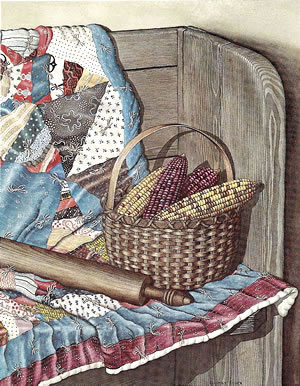 "A Taste of Country"
"A Taste of Country" brings to mind fond memories of tying quilting knots alongside Grandma.
Pictured here is a hand tacked, patchwork quilt from the early 1920's. It gently rests across a worn deacon's bench from an old black church in Sandersville, Georgia. Indian corn is nestled in a sixty year old basket once used to gather vegetables. A well used rolling pin adds the final touch to the country grouping.
Copyright ©
• www.DempseyEssick.com •
All Rights Reserved.

Last Update: 2/7/2019