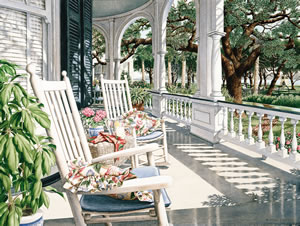 "View from the Veranda"
Founded in 1670, the city of Charleston, South Carolina is pervaded with the ageless charm of the eighteenth and nineteenth centuries. Old churches, beautiful gardens, and stately homes set on streets designed for horse and buggy traffic recall the beauty and serenity of the antebellum south.
Dempsey Essick sometimes vacations at the Two Meeting Street Inn, in Charleston. Historically known as the Carrington-Carr House, the inn is situated on a double lot on the corner of Meeting and South Battery. Dempsey likes to relax on the wide veranda with its double columned arches which curve around one end of the hundred-year-old home in a manner reminiscent of an early river boat.
In his "View from the Veranda", Dempsey has captured the essence of Charleston's fresh salt air, flower garden, and quiet tree lined streets. Approaching the painting, the viewer's eye drifts past the big-leaf schefflera in the left foreground and settles on two invitingly comfortable porch rockers with flowered cushions and a wicker table set with a pitcher of lemonade.
In the background, framed by freshly painted arches, a sprawling old live oak's tangled and twisted limbs stand in contrast to the stately trunks of a row of palm trees which define the boundary of the White Point Gardens. The gardens mark the tip of the Charleston peninsula where the Ashley and the Cooper Rivers merge to form Charleston Harbor which can be seen just past the Battery walk in the distance.
The mark of an Essick painting is in the small details. After the overall impact of the picture, the viewer begins to notice such things as the texture of the cushions; shadow patterns across the floor and onto the wall and shutters; even a glimpse of brick walkway through the banisters. And, in the distant trees, tendrils of Spanish moss indelibly stamp the scene as being in the deep South.
Plan your stay at Two Meeting Street Inn where Afternoon Tea is graciously served by the Spell Family.