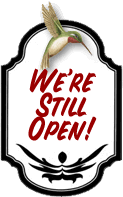 You may not be able to personally visit Dempsey Essick's Specialty Shop in Downtown Welcome, NC where you can enjoy the comfortable living room atmosphere that invites browsing and reminiscing but you can enjoy the art of Dempsey Essick here at his web site.
Dempsey paints his favorite subjects in "September Morning", his last release which will be sold framed only.
Cardinals are calling you to "Hangin' Out in the Pines", And you thought he only loved hummingbirds!
Enjoy "Zinnia Garden", an ever popular painting that allows your name to be added directly to the print.
Cool down this summer by enjoying some Essick Christmas Card Images.
Enjoy this actual view of "Wilson Creek" while you fantasize about fishing there and see Dempsey's DUKE NCAA Championship Doodle.
Learn why Dempsey is known as the Hummingbird Artist and how that came to be. See the hummingbirds Dempsey paints as well as the rebus hummers he hides in his paintings and even learn to draw Dempsey's hummingbird. Finally, you will understand the real reason people say that Dempsey Essick Art is For the Birds!
Please visit Dempsey's Place, a Must See Specialty Shop in Downtown Welcome
Wednesday through Friday 10am til 6pm
Saturday 10am til 1pm
Dempsey is in the shop most Saturdays. Please call ahead to confirm his schedule.
To get in touch with us, please visit our
CONTACT US
page